Bubble Pod Container | Sewing Pattern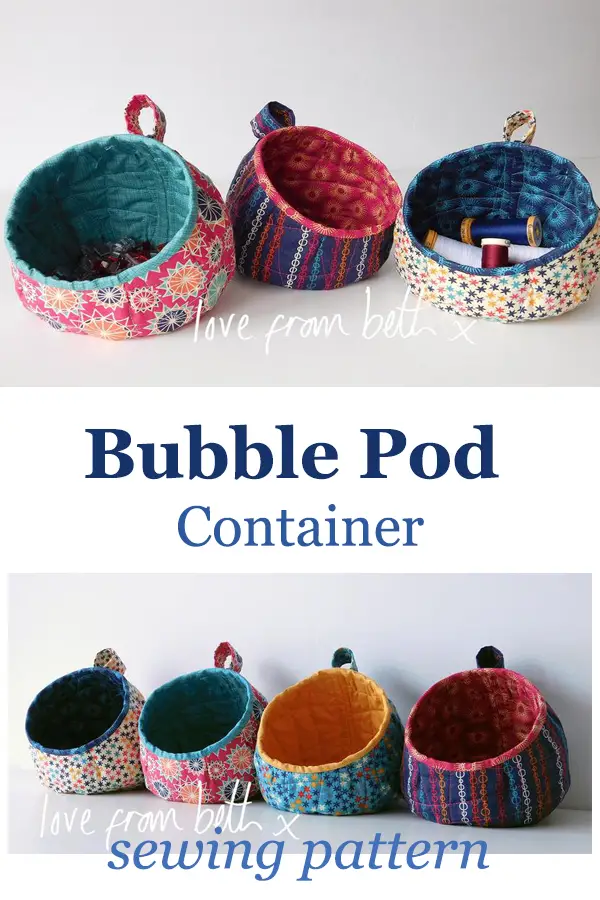 Do you need a more organized working space? Or maybe you want to make the bathroom more organized? If the answer is yes, then, these Bubble Pod Containers are perfect for you!
The finished size is approximately 5″. Their shape is round which helps them be the perfect pods for storing things like cotton reels or pins in the craft room and storing cotton wool balls in your bathroom. They have a neat finger loop which is a great feature that helps to move them around easily. The pattern is fully illustrated with step-by-step photos and is very easy to follow.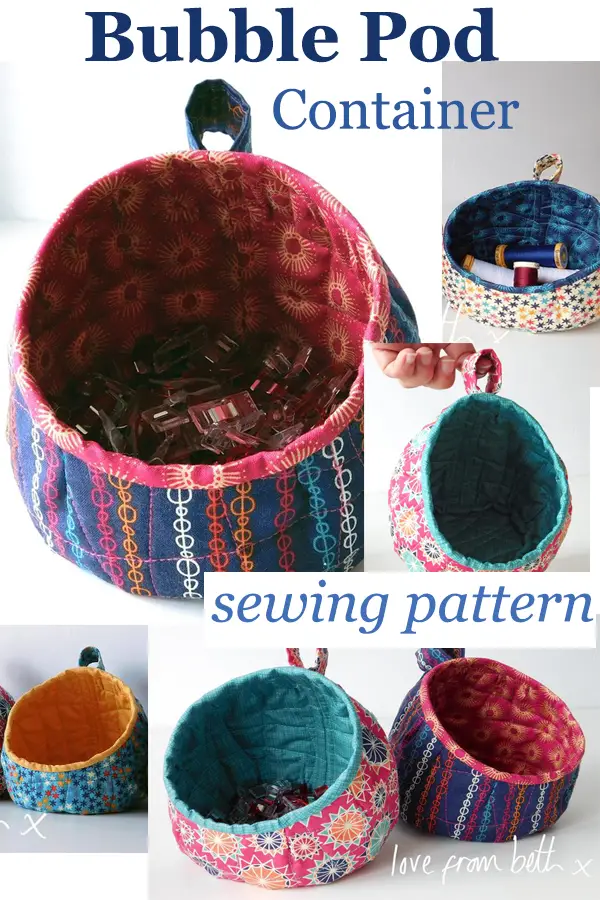 Finished size: 5.5″ x 5″ x 5″
Skill Level: Beginner – Medium
Materials Needed:
They make great storage containers for your craft room, bedroom bathroom, or even the mudroom. The simple, yet efficient design creates a flat surface with no need to hang them up. They are easy to make and you will need very little fabric. It almost seems too good to be true.
So, don't take our word for it. Here are some pattern reviews with a few more finished pod project pictures.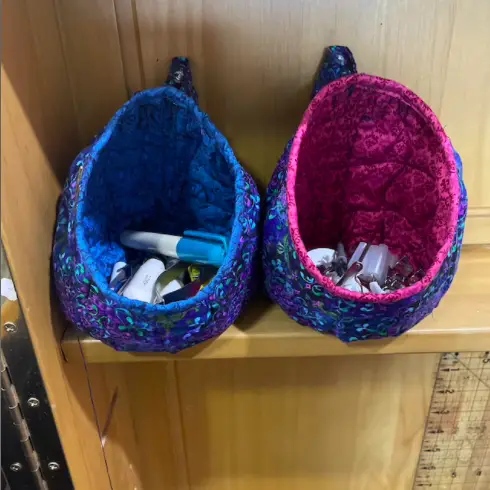 Melissa C. gives this pattern a 5-star review. Sharing that they are:
"Easy and quick to make! Super cute!".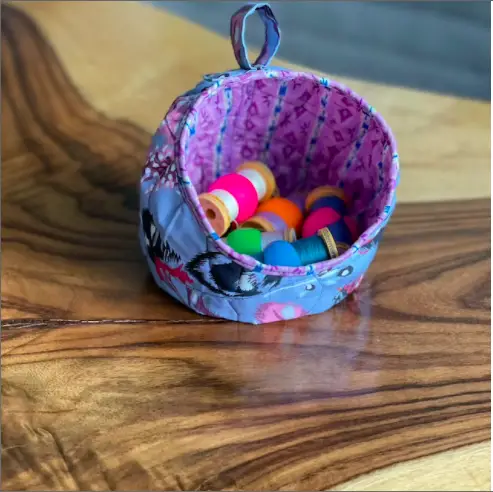 We love this adorable color combo from Beth. Her glowing 5-star review includes:
"Super cute pattern! Instructions were well written. I am a beginner and, although I know how to sew darts, etc., some parts of the pod assembly were very tricky. All in all a great learning experience though, and I expect as I keep practicing the process won't seem as daunting! 😄"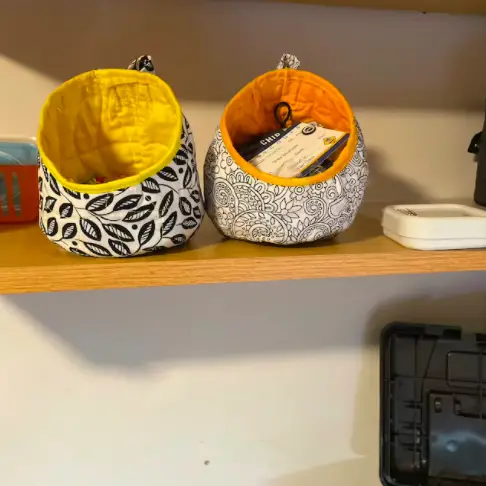 Jamie made these 2 coordinating pods with high contrasting lining and we love them! Her 5-star review echos many others.
"Easy step by step instructions. Turned out great."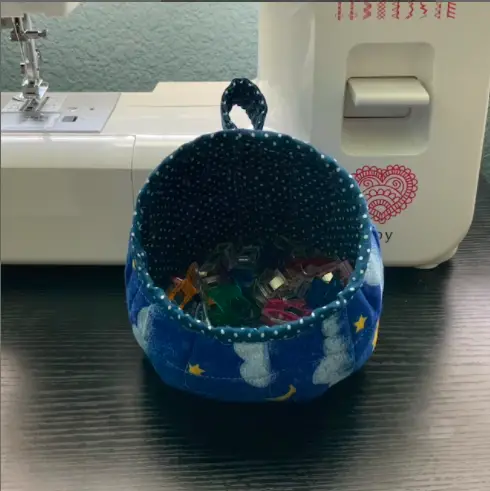 Jessie is using her finished bubble pod to store her small notions in the studio. Here is what she shared in her 5-star pattern review.
"Needed something to keep my sewing clips in and this was just what I was looking for. But this little pod is a lot of work. Not because the instructions weren't clear But because I am a true beginner. It's not perfect and I got to know my seam ripper a little better with this project but it's sturdy, turned out well and should last a long time. My next one will be much easier to sew.
We love sharing wonderfully designed patterns like this with you. They make using our scrap stash so inspiring.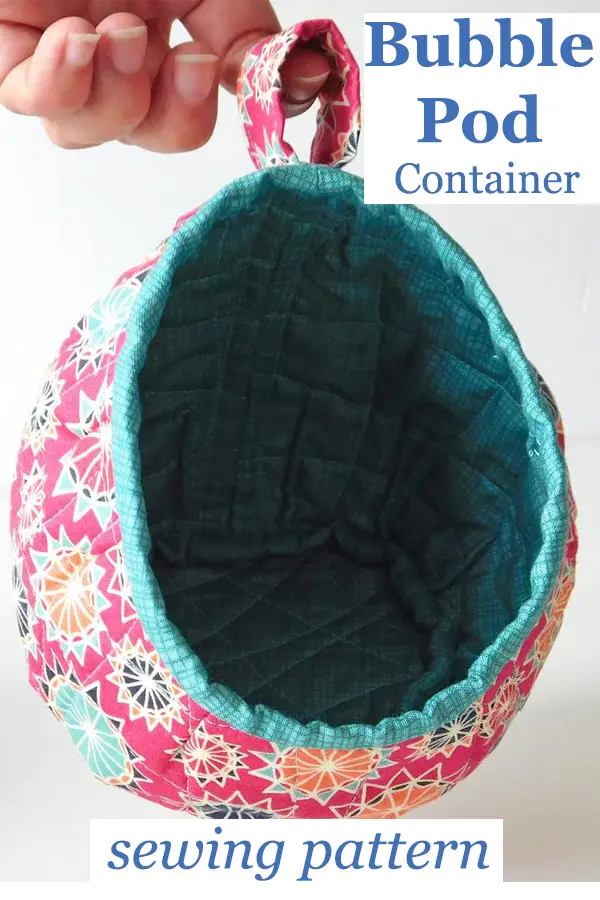 The Bubble Pod Containers work great both individually and as a set of three or more. They would be a lovely present for your friends. and lovely and useful items to have at your home.
Be sure to check out our lineup of storage solutions after stitching this pod together.